Keep the Cold Out: Insulate the House
Winter is coming, whether we're ready for it or not here in the Pacific Northwest. Along with the upcoming holidays and all of their associated chores, homeowners have to prepare their homes for the cold weather coming their way. While certain things should be left to the professionals, such as properly insulating the home, there are multiple things homeowners can do to keep their houses warm this winter. Not only will everyone in the family be cozy, but the heating bill won't be quite as terrifying!
How Longview Homeowners Can Prepare Their Homes for Winter
We've gathered a few great tips for how to get the family home ready for this winter. Most homeowners should be able to perform most of these tasks smoothly, but don't risk it. Specific processes, such as insulating the home and other significant repairs, should be left to professionals.
Perform Furnace and HVAC Maintenance
Be sure to keep the furnace and HVAC system in the house up-to-date with regular maintenance. This maintenance includes changing the HVAC filters monthly. It's easy to neglect this task, especially when it seems the filter is still working well. However, regular filter changes are essential to keep the HVAC system working correctly. Make sure to move any furniture such as sofas and tables away from vents and heaters to ensure maximum airflow throughout the house.
Evaluate the Home's Heating Zones
Homeowners in the Pacific Northwest know that it's vital to assess the house's heating zones. Most homes have two to three heating and cooling zones, and it's essential to realize that not every heating zone needs uniform heating. Keep the doors shut in areas the family spends the most time. This action will prevent the warmth from dispersing throughout the home. Additionally, set lower temperatures in the regions that don't see as much use to save on energy bills.
Brighten the Home's Interior
Low winter light and dreary conditions here in the Pacific Northwest may result in seasonal depression, also known as Seasonal Affective Disorder (SAD). According to Dr. Norman Rosenthal, as many as 14% of Americans suffer from some seasonal depression, and a majority of these sufferers benefit from light therapy. To help combat the winter blues, consider adding more lighting in rooms where the family spends the most time. Additionally, choosing lighter fabrics can go a long way toward keeping the home bright, even on the cloudiest winter days. The more natural light, the better.
Hire a Weatherization Company
Between school, sports, and upcoming holidays, it can be hard to find the time to weatherstrip the doors and windows, check the insulation, and other chores that pile up this time of year. Consider hiring a professional weatherization company to take care of these things, and spend free time with family or relaxing ahead of the busy season. Make sure to choose a local weatherization company, as they're typically more versed in the region's specific home styles.
Why Insulation is Vital for Longview Homes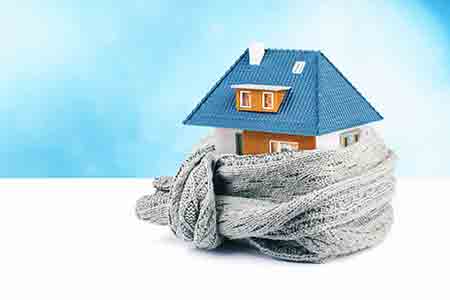 A professional weatherization company should evaluate the home's insulation, but some homeowners may not realize quite how important insulation is during the winter here in Washington state.
Insulation Improves Energy Efficiency
If the home isn't adequately insulated, it loses heat, and the heater runs more often to maintain a comfortable temperature. Additionally, the added cost of increased maintenance makes insulation a cost-saver in many respects. If the home's HVAC system runs more often, it'll need more support in the long run. With properly installed insulation, the HVAC system won't have to work as hard, and the home can stay comfortable longer without the use of excess energy.
Insulation Increases the Family's Comfort
Cold weather increases aches and pains associated with old injuries and arthritis. Keep the home comfortable all winter by ensuring that it's adequately insulated. Improper insulation can leave some rooms stuffy and hot, while others feel as though a cold wind just blew through them.
Insulation Protects the Plumbing
No one wants to wake up on a cold winter morning here in Washington to discover frozen pipes. When the temperature drops below freezing, the house's plumbing is vulnerable to freezing and bursts. Water expands as it freezes, so without proper insulation, homeowners may find themselves with a costly plumbing repair in the middle of the winter.
Focus Areas for Home Insulation
There are a few areas professional weatherization companies focus on when properly insulating homes for the winter. These include:
Floors and Crawlspaces. Well-insulated floors and crawlspaces are integral to the health of the home's plumbing system. A professional insulation company should install vapor barriers. Additionally, they should seal all areas and ensure all vents are working correctly.
Walls. A home loses a lot of heat through its walls. Make sure to ask the weatherization company what insulation they use in the walls and why. Properly insulated walls can reduce a home's heat loss by 67%!
Duct Systems. If the home has a ducted system, it's critical to air seal it. This way, the air in the house remains free from dust, allergens, and bacteria. Adequately sealed duct systems reduce drafts and moisture in the home, and they improve energy efficiency!
How Can Northwest Weatherization Help?
For a decade, Northwest Weatherization has provided professional insulation and weatherization services to homeowners in the Portland metro area. Our PTCS & LEAD-certified technicians have decades of combined experience, and they are dedicated to improving our clients' energy efficiency and comfort in their homes. We aim to educate homeowners on how to conserve and sustain energy through proper weatherization and insulation. We understand that home improvement projects can be expensive and stressful, so we strive to ensure reasonable costs and comfortable experiences. Call today for a free home energy audit!