ENERGY INCENTIVES
Energy Trust of Oregon (Cash Incentive)
Gas and Electric Heated Homes Oregon is offering a rebate incentive for homeowners looking to increase their home's energy efficiency. For increasing your homes insulation to R-38 Energy Trust of Oregon will credit you $.25 per square foot including labor — that's about 25% in savings from the Energy Trust alone! The Savings With In Reach program through ETO offers an incentive of $.50 for qualifying home owners to bring their insulation in the attic up to R-38. There are also lots of incentives for other weatherization measures We are offering a free energy audit of your home to help you determine your cost savings, contact us today!
Click Here for Energy Trust of Oregon's Incentive Qualifications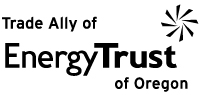 ---
State Home Oil Weatherization (Rebate Check)
Oil, propane, kerosene, or butane
The Oregon Department of Energy administers the State Home Oil Weatherization (SHOW) Program, which serves Oregon households that heat with oil, propane, kerosene, or butane.
SHOW-eligible homeowners can conduct their own energy audit and apply for cash rebates for installed weatherization and heating measures.
Eligible SHOW homeowners can receive a maximum rebate of $500 among the following choices while funds last
The $500 limit is per household and excludes any rebates previously approved. Either owner-occupied homes or rentals may qualify for rebates if heated with fuel oil (oil, propane, butane, or kerosene) or wood.
Click Here to Review Eligibility
Rebates Other:
There are quite a few more insulation incentives programs for other utilities as well so give us a call and we can help you sort out what you may need and qualify for.