We're Hiring! Be Part of the Green Team
When it comes to us we know we make a difference our customers, employees and the environment. According to the Energy Trust of Oregon, out of 12 Regions, Northwest Insulation (aka Northwest Weatherization), our parent company which we hope you will soon be a part of, saved the Portland Metro Area more energy than the bottom seven companies combined.
What we Offer
Competitive Pay
Plenty of room for Career growth
Our location in Hillsboro is central to the Willamette Valley
We are not done yet
Even though we have at least 25 years of combined experience, we have a ways to go until our vision of making sure homes are properly weatherized is a reality. That's because we don't stop at good enough. We believe that our customers should have the best possible service. In order to do that we have to constantly improve. That means re-thinking how we work and communicate. Sometimes its hard,
If You have a positive attitude, have great work ethic, and are willing to be part of something truly great, fill out this form.
Position Descriptions
Insulation – Installation Professional:
You get to make it happen! You're already an honest and strong person that can get in and out of tight places while working for long periods of time. Of course you can lift 40 pounds and work with pretty much anybody, so if You are ok with doing all of this, go ahead and apply; we're looking for You!
Estimator – Sales Professional
Someone once said that you are able to sell Ice to Eskimos. You know that's kind of true in the back of your mind (and you keep on doing it because its fun). We're sorry to tell you that, sometimes, your work at Northwest Weatherization is going to be easier than that. We make up for it by expecting that you properly communicate back the situation involving each customer. You don't even have to get your own leads; just be able to properly convey the value that we provide our customers.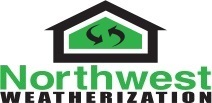 And we are
We're pretty excited to have you on board with us. We're excited because we know that you'll help us move towards a better tomorrow. One that is less energy dependent, one that is more sustainable.