Lower the cost of your insulation upgrade
Insulating your "Attic" is an almost 90% discount with current ETO rebates. (*For a limited time starting September 1, 2020, through March 31, 2021, trade allies will be able to offer a $1.25 per square foot attic insulation incentive to eligible Oregon and Washington customers.)
Making sure your home has proper insulation is one of the best ways to save energy and increase comfort for years to come. When you work with Energy Trust of Oregon, we can help you get cash back for high-quality insulation that: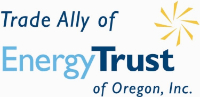 Reduces noise
Improves year-round comfort
Lowers your heating and cooling costs
Contact us today
Address: 2704 SE 39th Loop, Suite 109, Hillsboro OR, 97123
Telephone: (503) 640-9000
We are working with Energy Trust of Oregon to help you reduce energy costs and improve the comfort of your home.